UNDERGROUND BASES, ALIEN TECHNOLOGY & THE GREYS.
INTRODUCTION by S.N.Strutt
22/05/17
The following video, is definitely very scary, and not for everyone.
However in the fight against Darkness, it is good to know your Enemy and how he operates.
For "we wrestle not against Flesh and Blood, but against Princiaplites, againt Powers, against the Rulers of the Darkness of this world (Satan and his Fallen Angels), againt spiritual wickedness in high places."
Find out how the USA government wastes 28% of the USA'S YEARLY INCOME on "BLACK OPERATIONS" alone. They steal the money from the Budget, with total arrogance and disregard for the laws of man. They treat the man on the street as a complete nobody, who doesn't deserve to know the truth.
So much information, about a miriade of important technologies are deliberately hidden from the general public, with the very arrogant attitude of those in charge of the BLACK BUDGETS. They spend money on many things, for which they should be arrested for serious crimes against the laws of the USA. They act as if they are the untouchables, and that they are above the law!
NUCLEAR TUNNEL-BORING MACHINES
200 UNDERGROUND CITIES IN THE USA ALONE
UNDERGROUND HIGH SPEED TRAINS travelling at MACH 2 (Twice the speed of Sound) using Alien Technology.
In this video, you will hear about all kinds of beings far under the ground who are physical and very dangerous and beguiling and who eat human flesh.
It explains why so many unaccountable persons have disappeared from the face of the earth for good, and who ended up as lunch to these sickening Hybrid Reptilian races.
A lot of very interesting details on this video. I have just mentioned but a few of the interesting details HERE
WELL WORTH WATCHING, for those who can handle it!
Let's keep up the FIGHT against The Evil DECEPTION that is trying to take over the planet, in the form of the NEW WORLD ORDER, who are toally in league with the above-metioned sickening demonic Reptilain Races.
Even if they are physical, they have alot to do with demons and Fallen Angels, and are the resultant Hybrid Races, formed from mixing DNA collections from humans in so-called Alien Abductions, which actually happen underground and not in space.
Sincerely,
Steve.
March 23, 2017
Massive Cover-Up Alleged To Be Ongoing At Large, West Coast Universities

As The Pacific Ocean Food Chain Collapses
- As The 'Gates Of Hell' Are Opening, The Appetites Of Demons Are Being Expressed Through Humans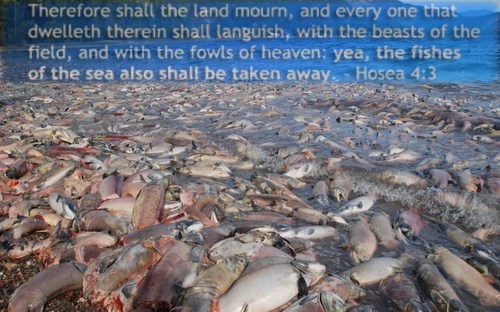 By Stefan Stanford - All News Pipeline - Live Free Or Die

According to this story from the Center For Biological Diversity, marine fish provide 15% of all animal protein consumed by human beings. Also warning in the first paragraph of their story that the global fisheries industry is collapsing, their story is further confirmation of what ENENews and many other local outlets along the West coast are publishing, the deep Pacific ocean is dead and broken, devoid of life over large portions.

The February of 2017 story from Armstrong Economics asked "Has The Extinction Cycle Also Turned Against Us?" within which a claim is made that a massive coverup is ongoing about the true health of the Pacific Ocean with threats being made against researchers to prevent them from publishing their true findings. "The penalties for violating these new rules are severe: loss of tenure, civil lawsuits for violation of contract, and potentially employment termination."

What might researchers have learned that requires such a cover-up and why should the public be concerned about a cover-up of the collapse of the Pacific Ocean food chain? The stories coming to us from that region largely have one thing in common - the mass die-off's happening now to life around the Pacific Ocean are all largely due to the creatures starving to death. Heartbreaking story after story warn of malnourished and diseased fish, birds and mammals. Where is their food this recent ENENews story asks? Where did 100's of millions of salmon go another ENENews story asks? This stunning claim was also recently made: "All forms of ocean life dying in stunning numbers across Pacific."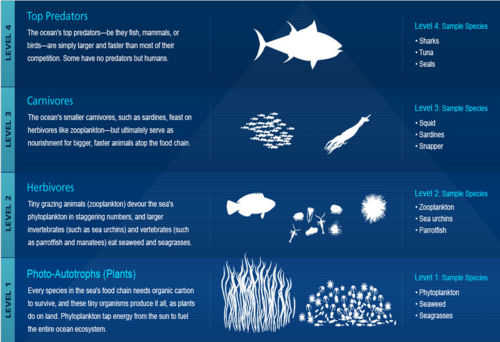 That sadly also includes many fish, sea birds and mammals at the 'top of the food chain' in the ocean's, those without any predator's besides man, and 'the top of the food chain' definitely includes us. How many millions of Americans and people throughout the world might lose their lives due to what is now happening in the Pacific Ocean? If indeed the mass deaths happening there now are due to radiation, we should remember this fact:

With each succeeding step in the food chain, radioactive particles are accumulated in predatory species.

Bioaccumulation is the process by which harmful contaminants accumulate in organisms at the top of the food chain. Top predators, such as Pacific Bluefin Tuna, are at risk because they consume numerous, small organisms, along with the radioactive particles that the prey have inside their bodies. As tuna eat contaminated prey, the radiation increases in its tissues exponentially.

Dating as far back as to this May 29, 2012 story from BBC we learned that Bluefin tuna caught off of the coast of California had tested positive for radiation within their bodies. Can the Pacific Ocean withstand another 50 million tons of radioactive waste poured into it with huge parts of it already showing massive signs of death and destruction?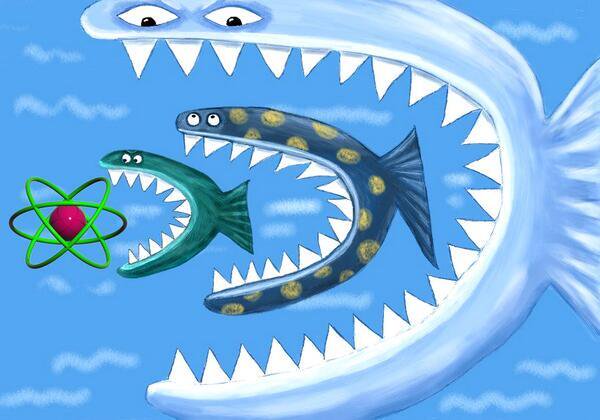 Each day we're getting more and more signs and indications that we're living in truly perilous and Biblical times whether or not the mainstream media wants to report upon them and as Steve Quayle along with Pastor Rick Wiles talk about in the first video below, from cannibalism going mainstream to 'all hell breaking loose on Earth', we're coming in to a time of God's promises being fullfilled as we watch the words of Hosea 4:3 coming true before our very eyes. Quayle warns us we're now watching the appetites of demons being expressed through humans.

We shouldn't be surprised this is all unfolding - we've long been warned. As recently as June of 2016 it was reported a government think tank and FEMA contractor predicted a 395% spike in food prices which would cause social unrest as heard in the 2nd video below. Food has long been used as a weapon. In the 3rd video below from CNN back in October 2015 they reported the oceans food chain could collapse. Was that just 'fake news'? In the final video below we see an 'end times report' that looks at all of the 'mass animal death events' in 2017 alone.

Much more below but first, from the Armstrong Economics story:

I have just returned from visiting my friend, who is a senior cetacean biologist at one of the large west coast universities. While there, he described an amazing situation to me that has alarmed me greatly. He said that research at his university has conclusively identified the complete or almost complete collapse of several dozen food chains within the Pacific Ocean, all within the last 36 months or so.
Further, in "unauthorized" exchanges with the relevant departments in other coast universities, he learned that the numbers involved may well be more like hundreds of chain collapses in the same timeframe as opposed to dozens. Finally, in talking with authoritative figures in Vancouver, they apparently believe that the figure is likely closer to 1000.

My friend also explained that equally alarming is the fact that all these research departments are finding within the genres of sea life they have physically examined within the same timeframe "huge numbers of general body mutations, as well as skin disorders" which all cannot yet be accounted for in terms of causation.

As bad as all of this sounds, here is the real rub. Regarding these findings about food chain collapses, mutations, and injuries, my friend's university has instituted a policy that forbids them from publishing their findings, from discussing their findings (on this subject) publicly or in private with other researchers outside their own campus, or finally from taking "unauthorized" radiation readings as part of their research.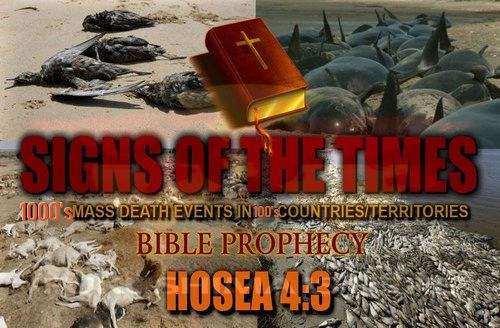 As our society turns away from God and falls more and more deeply into spiritual decay, we shouldn't be surprised that Hollywood continually pushes 'hunger game' and 'cannibalism' movie themes at the same time as many of our sources of food are being systematically destroyed. As many paying attention know, the 'cannibalism' theme we're watching play out also carries over to politics as Quayle mentions in the 1st video below, and in the 7+-year-old story outlined below we get proof that John Podesta appears to enjoy pushing cannibalism as far as he can get away with.

In this story dated June 1st of 2009, Politico asked DC's 'A-listers' where they go on vacation. The first full year of Barack Obama's presidency, they reported DC politicos were getting ready for August getaways and while Lynn Cheney proclaimed she'd be spending her summer at her home in Jackson, Wyoming, working on her autobiography of James Madison, John Podesta claimed he'd be in California doing conference calls in the most unusual way. Is there any particular reason his response then (seen in the screenshot and republished below) didn't raise any eyebrows?

John Podesta, Center for American Progress: "I am going to my condo in Truckee [Calif.], like I do every year — will sit on my porch and do conference calls 50 feet from where the Donner Party ate each other."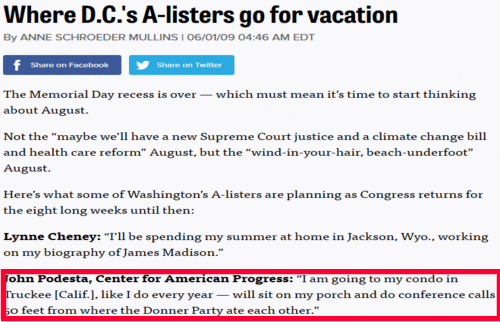 As we hear in this video, all of this push by Hollywood, politics and the mainstream towards what society has long-called a 'final taboo' is all coming at a time when the fabric of our society is being ripped apart all around us.

The story over at the Church of Euthanasia is called "Butchering The Human Carcass For Human Consumption". A 'step-by-step guide' on how to break down the human body from 'full figure into serviceable choice cuts of meat', we see in their website another very real sign of our world's descent into madness, a world where life no longer means anything to the controlling few who hope to spend their lives eternally via transhumanism as men are changed into monsters.

In closing, also discussed in the 1st video is Quayle's very interesting interpretation of Numbers 13:32-33 which we've republished below. As Pastor Wiles mentions, do these verses from Numbers refer to 'giants' and 'cannibalism'?

So they gave out to the sons of Israel a bad report of the land which they had spied out, saying, "The land through which we have gone, in spying it out, is a land that devours its inhabitants; and all the people whom we saw in it are men of great size.

"There also we saw the Nephilim (the sons of Anak are part of the Nephilim); and we became like grasshoppers in our own sight, and so we were in their sight."








Russian President Vladimir Putin has signed the Russian Federation Code of Administrative Offences into law, including a new article establishing liability for the violation of mandatory requirements for the labeling of food products that contain GMOs.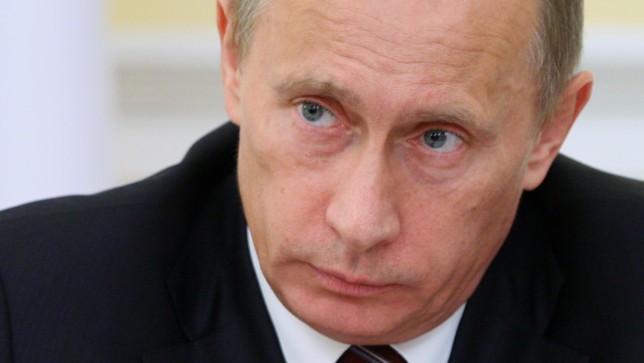 19/6/15

Putin signed the new bill on the last day of 2014 TASS news agency reported.
The bill which was submitted by the Federal Service for Supervision of Consumer Protection and Welfare (Rospotrebnadzor) imposes fines for vague or unclear labeling on food products containing genetically modified ingredients.
According to the bill, individual entrepreneurs could be fined up to 50,000 rubles ($890), and the products will be confiscated. Business entities face a fine of up to 150,000 rubles (over $5,300).
President Putin said in 2014 that Russia must protect its citizens from overconsumption of products containing genetically modified organisms. Prime Minister Dmitry Medvedev followed this with a statement that Russia has no intention to import GMOs, however there are still large quantities of GMO foods being imported in to Russia.
Russian Minister of Agriculture Nikolai Fyodorov believes that Russia must remain a GMO-free country. At a meeting of deputies representing rural areas organized by United Russia, he said that the government will not "poison their citizens."
In February, a group of senators from Russia's Federation Council introduced a bill seeking to prohibit the distribution and import of products containing GMOs in Russia.
According to the explanatory note attached to the bill, only 18 lines of GMOs are officially allowed in Russia at the moment. This is a far lower number than in other countries, as the Russian farming industry has long maintained extensive restrictions on the use of technology related to GMOs. The senators say that because of its WTO membership, Russian markets could import numerous genetically modified products from other countries, thereby destabilizing the situation
By Catherine J. Frompovich | Activist Post
Just about everyone loves corn, especially fresh corn-on-the-cob in summer. Well, maybe "corn-aholics" ought to research the effects of modern GMO corn before taking another bite. Don't pop that corn yet!
Jerry Rosman was a pig and cattle farmer, who now is an ORGANIC farming consultant as a result of losing his animal-breeding farming business due to GMO corn feedstock interfering with animal husbandry and reproduction—baby piglets and calves. Rosman realized that the GM corn, actually bt-corn, he was feeding his hogs was responsible for sows experiencing false pregnancies. That led to his eventually losing the swine and cattle breeding and farming business. In his ah-ha moment, after realizing what was going on, he said, "If this is happening to our hogs, what's happening to humans?"
If that's what happened to Mr. Rosman, shouldn't everyone be concerned about GMO bt-corn, which is an ingredient in just about every mass-produced food product sold in the USA?
Former pig farmer, now organic farming consultant, Jerry Rosman talks about his experience with GMO corn, the politics of GMOs, and the harassment everyone who speaks out against them receives, plus his ongoing GM research in this 8 minute video.
Rosman claims the FDA is not concerned about GMOs. I guess not, since former Monsanto chief lobbyist Michael R Taylor is now FDA Deputy Commissioner for Foods and Veterinary Medicine [1].
Why Veterinary Medicine? He's not a veterinarian! He's a lawyer by training. Shouldn't Taylor be out of the FDA because of his past Monsanto loyalties? Shouldn't someone start a campaign to get him retired because of possible conflicts of interest and loyalties to a former employer?
In the Rosman interview video at 11:27 on the timeline, readers will hear the stunning information that the genetic modification process makes bt-corn become a "poison plant," as revealed by a plant toxicologist.
Rosman further claims that since no feeding trials have been done for GMOs before introduction into the marketplace, the feeding trial is going on NOW in humans. OMG!
For more information about the serious health and environmental problems of GMO Frankencrops, readers may be interested in Gary Null's full-length video Seeds of Death: Unveiling the Lies of GMOs.
References:
[1] http://www.fda.gov/AboutFDA/CentersOffices/OfficeofFoods/ucm196721.htm
Resources:
CONFIRMED! Lab tests show over 30+ popular food products contain GMOs. Are you eating them?
http://foodbabe.com/2014/10/10/confirmed-lab-tests-show-over-30-popular-food-products-contain-gmos-are-you-eating-them/
NonGMO Project Verified Products
http://www.nongmoproject.org/find-non-gmo/search-participating-products/
9 GMO Ingredients to Avoid
http://action.greenamerica.org/p/salsa/web/common/public/signup?signup_page_KEY=7608&tag=adwords&gclid=CJq4kLLr88UCFQ4XHwodGm0Arw
Catherine J Frompovich (website) is a retired natural nutritionist who earned advanced degrees in Nutrition and Holistic Health Sciences, Certification in Orthomolecular Theory and Practice plus Paralegal Studies. Her work has been published in national and airline magazines since the early 1980s. Catherine authored numerous books on health issues along with co-authoring papers and monographs with physicians, nurses, and holistic healthcare professionals. She has been a consumer healthcare researcher 35 years and counting.
NETHERLANDS BANS MONSANTO
SOURCE:-(http://ewao.com/a/1-the-netherlands-ban-monsantos-roundup)
May 17th, 2015
Individuals, countries, and companies are introducing bans against Monsanto and its toxic herbicide, RoundUp, at an astonishing rate! Not too long ago we shared news of a German company booting Monsanto's toxic ingredient glyphosate from its store shelves, and news has resurfaced of the Netherlands banning glyphosate-containing RoundUp as well!
According to CSGlobe, the Dutch Parliament decided that the sale of glyphosate-based herbicides to private parties will be prohibited as of late 2015. That means that anyone who presently sprays RoundUp on their gardens and lawns will have to find another form of pest control, as glyphosate is the main ingredient in RoundUp.
If you're not yet aware, this chemical has been directly linked to an assortment of severe health concerns, including birth defects, nervous system damage, kidney failure, and various forms of cancer. While there has not been any conclusive evidence it causes these in humans, convincing animal studies have caused the WHO organization to recently label glyphosate as "probably carcinogen" - leading to bans like the one passed in the Netherlands.
Joining Russia, Mexico, and a list of other countries seeking to do away with the 'likely' cancer-causing concotion, the Netherlands has allayed many fears of concerned citizens by passing this initiative.

Bollenboos and the Party for Animals were the groups to launch an initiative to create a notification center, where citizens had the opportunity to express issues that concerned them. Many residents of the Netherlands shared their concerns about the use of glyphosate, and the astonishing number of people who opposed it prompted Esther Ouwehand and Gerard Schouw, two members of the Dutch Parliament, to submit a motion that would ban glyphosate from the country. Ultimately, with the support of several political parties, the motion was approved.
While the Dutch Lower House had sought to ban glyphosate from non-agricultural use several years ago, Monsanto's influence overrode that motion at the time. But *fingers crossed* many are sure the decision made last September will be a permanent one.
As was predicted last year, this move would inspire other countries to follow suit - and they have!
While progress is slow in the United States, at least GMO labeling efforts are being made and consumer awareness is growing on the daily. But Brazil, Austria, Bulgaria, Germany, Greece, Hungary, Ireland, Japan, Luxembourg, Madeira, New Zealand, Peru, South Australia, Russia, France, and Switzerland have all at present banned glyphosate - so it's only a matter of time before change is introduced elsewhere!
Modern Life Is a Frightening Experiment in How Much Exposure We Can Take from Toxic Chemicals
April 29 2015 By Allegra Kirkland, AlterNet
Back in 1974, the agricultural multinational Monsanto developed a class of herbicides using glyphosate as the key ingredient. By the 1990s, the company had created corn, soy and cotton seeds genetically altered to resist glyphosate herbicides, meaning farmers could kill weeds without fearing for the health of their crops. Today, Monsanto's Roundup is the most widely used weed-killer in the world.
One problem: we now know with certainty that glyphosate is carcinogenic to humans and animals. Though Roundup has been plagued by controversy for years, a report released this March by scientists affiliated with the World Health Organization definitively linked the herbicide to increased risks for non-Hodgkin lymphoma, as well as DNA and chromosomal damage in mammals.
Roundup is only one of tens of thousands of chemicals we encounter every day in our food, clothing, furniture, electronics and cosmetics. Over 84,000 chemicals are used in U.S. commerce, according to the Environmental Protection Agency, most of which have never been tested for potentially toxic effects on human and wildlife health and the environment.
The Human Experiment, a new documentary narrated by Sean Penn and directed by journalists Dana Nachman and Don Hardy, takes a wide-angle view on the health risks perpetuated by the chemical industry.
The documentary uses three case studies to provide a sampling of the potential health consequences of sustained chemical exposure. Marika Holmgren is an active, non-smoking Bay Area woman with no family history of cancer who receives a diagnosis of advanced breast cancer at age 37; Jenn Canvasser is a healthy young woman who discovers she has polycystic ovarian syndrome and endures several difficult, expensive rounds of IVF treatments as she and her husband try to conceive; and Hannah Cary, whose brother is severely autistic, is an advocate at the Autism Society of America. The subjects and filmmakers make the case that chemicals in the environment are responsible for these health conditions, and there is plenty of unnerving science to back up their fears.
Many of the professors and scientists interviewed in the film point to rising rates of cancer, learning disorders and infertility that cannot be fully explained by genetic drift or changes in diagnostic criteria. Breast cancer rates have gone up more than 30 percent in both men and women since 1975. Rates of asthma have increased by 80 percent in the last 45 years, and ADHD has increased by 53 percent. As Sean Penn narrates, these conditions "are all on the rise since the dawn of the chemical revolution."
But correlation and causation are not the same thing, as any scientist (or journalist) knows. In the case of women like Jenn Canvasser, there could be many other environmental and genetic factors at play. Like 6.5 million other women in the U.S., Canvasser has trouble conceiving. When she finally gives birth to twins after multiple rounds of IVF treatments, both are plagued by health problems and one eventually dies after a few short, hospital-ridden months. Her story is heartbreaking, but at no point is her or her sons' condition explicitly linked to chemical exposure. Instead, the filmmakers say "Numerous studies associate adverse pregnancy outcomes with toxic chemicals including pesticides, DDT, PCBs and BPA." Again and again, they hammer home the connection between rising rates of disease and chemical usage.
Over the past several decades, the chemical industry has repeatedly demonstrated a blatant disregard for public health.
Existing and new chemicals are supposed to be monitored by a 1976 law known as the Toxic Substances Control Act. But loopholes in its language mean that companies don't have to test chemicals before including them in consumer products and make it very difficult for the EPA to pull hazardous chemicals from the market.
Sixty-two thousand chemicals, including toxic substances like asbestos, were grandfathered in under the law, assumed safe because they were already in use. Essentially, the TSCA functions as little more than a long list of known chemicals, and consumers have no way of knowing which products contain flame retardants, formaldehyde, cadmium, or other chemicals that can be toxic to humans and animals.
As David Rosner, a professor at Columbia's Mailman School of Public Health, says in the film, there have been "real mistakes, major mistakes where we allowed these industries to get away with murder."
The lack of available information about the linkages between chemicals and disease is partly the design of the $770 billion chemical industry. Dow, Exxon and other major firms spend millions each year lobbying Washington for favorable legislation and funding the campaigns of industry-friendly representatives.
In the late 1990s, bisphenol A, an endocrine-disrupting chemical that mimics estrogen and can lead to health problems ranging from obesity to infertility, was discovered to be in many hard plastics. These everyday products included everything from baby bottles to Tupperware. During the ensuing public outcry, chemical industry trade groups released a rash of bunk studies, insisting that BPA is safe for humans at the levels to which we're exposed.
Sean Penn Chemical Doc 'The Human Experiment' Debuts First Trailer
Monsanto Employee Admits an Entire Department Exists to "Discredit" Scientists
But no one knows about it
SOURCE:-http://naturalsociety.com/monsanto-employee-admits-an-entire-department-exists-to-discredit-scientists/#ixzz3WeWjG3q6

April 6, 2015
Dare to publish a scientific study against Big Biotech, and Monsanto will defame and discredit you.
For the first time, a Monsanto employee admits that there is an entire department within the corporation with the simple task of 'discrediting' and 'debunking' scientists who speak out against GMOs.
The WHO recently classified glyphosate, a chemical in Monsanto's best-selling herbicide Roundup, as carcinogenic – news that is really heating things up with biotech. So Monsanto has been demanding that the World Health Organization (WHO) and the International Agency for Research on Cancer (IARC) retract their statements about the poisons's toxicity to human health.
The company demands this even though a peer-reviewed study published in March of 2015 in the respected journal, The Lancet Oncology, conducted a analysis proving that glyphosate was indeed 'probably carcinogenic.'
Monsanto's vice president of global regulatory affairs Philip Miller told Reuters the following in interview:
"We question the quality of the assessment. The WHO has something to explain."
It has already been explained, Mr. Miller. The study states:
"Glyphosate is a broad-spectrum herbicide, currently with the highest production volumes of all herbicides. It is used in more than 750 different products for agriculture, forestry, urban, and home applications. Its use has increased sharply with the development of genetically modified glyphosate-resistant crop varieties. Glyphosate has been detected in air during spraying, in water, and in food. There WAS limited evidence in humans for the carcinogenicity of glyphosate.
Glyphosate has been detected in the blood and urine of agricultural workers, indicating absorption. Soil microbes degrade glyphosate to aminomethylphosphoric acid (AMPA). Blood AMPA detection after poisonings suggests intestinal microbial metabolism in humans. Glyphosate and glyphosate formulations induced DNA and chromosomal damage in mammals, and in human and animal cells in vitro. One study reported increases in blood markers of chromosomal damage (micronuclei) in residents of several communities after spraying of glyphosate formulations."
In a recent talk attended mostly by students hoping to get decent paying internships in their field, a student asked what the company was doing to negate "bad science" concerning their work.
Monsanto's employee, Dr. William "Bill" Moar, who gives talks on Monsanto's products to reassure everyone that they are safe, perhaps forgot the event was public when he openly revealed that Monsanto had:
"An entire department" (waving his arm for emphasis) dedicated to "debunking" science which disagreed with theirs."
Likely, this is the first time a Monsanto employee has publicly admitted that they have immense political and financial weight to bear on scientists who dare to publish against them. Of course they don't list this discrediting department anywhere on their website.
The company will stop at nothing to discredit and devalue the contributions of unimpeachably respected Lancet and the international scientific bodies of WHO and IARC, among others.
The stakes are high – after all, an entire industry of GMO seed (for which they currently hold more than a three-fourths monopoly share) is based on being Roundup ready.
Glyphosate is their hallmark product, and it accounts for billions in sales when you account for the seed they sell to go with their best-selling herbicide.
In a single publicly made phrase, Moar has admitted that the Monsanto-funded science is sheer propaganda – essentially that they indeed have dozens, if not hundreds of employees out making sure that no science which tells the truth about their cancer-causing products ever garners any credibility whatsoever in the information age.
Monsanto has also held up the findings of regulatory bodies, particularly in the United States where the revolving door between agrochemical corporations and government seems never ending.
Bowing to Monsanto, USDA Approves New GMO Soy and Cotton Crops
'This continues the disturbing trend of more herbicide-tolerant crop approvals taking place under President Obama's watch.' — Wenonah Hauter, Food & Water Watch
The United States Department of Agriculture on Thursday approved Monsanto's controversial herbicide-resistant genetically modified strains of soybean and cotton, in a move that critics say is a bow to the powerful biotechnology industry, at the expense of human and environmental health.
The green-light is "simply the latest example of USDA's allegiance to the biotechnology industry and dependence upon chemical solutions," Food & Water Watch Executive Director Wenonah Hauter declared in a press statement. "This continues the disturbing trend of more herbicide-tolerant crop approvals taking place under President Obama's watch."
Dr. Marcia Ishii-Eiteman of the Pesticide Action Network echoed Hauter's concerns, calling the new genetically modified crops "the latest in a slew of bad ideas" and a sign of the USDA's "allegiance to the largest pesticide corporations."
The U.S. Department of Agriculture's Animal and Plant Health Inspection Service (APHIS) on Thursday granted "nonregulated status for Monsanto Company's (Monsanto) soybeans and cotton that are resistant to certain herbicides, including one known as dicamba." The biotechnology giant still awaits the Environmental Protection Agency's approval of the new herbicide, which contains both dicamba and glyphosate, designed to accompany the resistant strain.
But food and environmental safety advocates warn that the corresponding increase in herbicide use is dangerous to the ecosystem. As the Center for Food Safety points out, dicamba has been linked in epidemiology studies to "increased rates of cancer in farmers and birth defects in their male offspring." First approved in 1967, dicamba seeps through the environment, causing damage to crops and flowering plants and polluting waterways.
Furthermore, herbicides give rise to resistant weeds, leading the development of new herbicides, accompanied by resistant genetically engineered crop strains. Critics charge that, rather that embark on an endless cycle of pumping chemicals and genetically modified crops into the environment, fostering a "pesticide treadmill," regulators should take the long-term well-being of the ecosystem into account and change the status quo.
The USDA's green-light follows the Environmental Protection Agency's approval in October of Dow AgroSciences' herbicide Enlist Duo, which farmers and scientists warn threatens human and environmental health.
"Monsanto's genetically-engineered dicamba-resistant crops are yet another example of how pesticide firms are taking agriculture back to the dark days of heavy, indiscriminate use of hazardous pesticides, seriously endangering human health and the environment," said Andrew Kimbrell, executive director of Center for Food Safety.
This work is licensed under a Creative Commons Attribution-Share Alike 3.0 License