March 7, 2017
The Earth Is Giving Us Ominous Signs Of Change - 'Gateways To Underworld' Open Across The Planet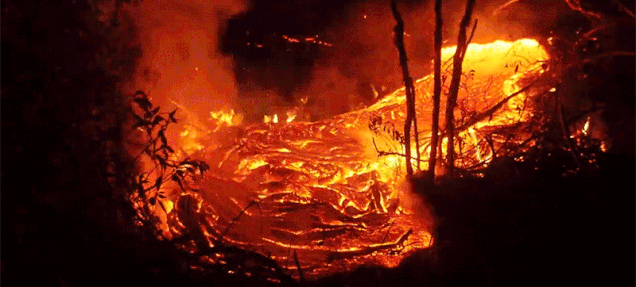 By Stefan Stanford - All News Pipeline - Live Free Or Die

The recent story over at Infowars by Michael Snyder called "Is Something Happening Inside The Earth?" within which Snyder reports upon the many long dormant volcanoes around the world now roaring back to life. Reporting upon the 'giant fountains of lava' suddenly pouring out of some of the most dangerous volcanoes on the planet, Volcano Discovery reports 35 major volcanoes are either erupting right now or had just recently erupted while dozens more are stirring. As anybody who pays a great deal of attention to our planet might want to know, Snyder asks "what is causing the upsurge in volcanic activity" worldwide?

The story recently linked to on SteveQuayle.com on March 4th from Ancient Code is called "What Scientists Found In Siberia Is Truly Terrifying! And It's Just The Beginning" within which they reported upon a huge crater that has opened up in Siberia, revealing a 'lost world in time' that is called 'the doorway to the underworld' by locals there.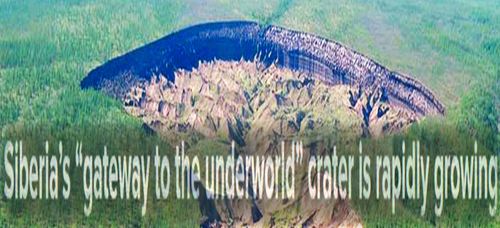 Still growing at more than 100 meters deep, Science Alert recently reported the Batagaika crater is getting so big, it's uncovering ancient forests.

Back in May of 2016, the Siberian Times reported 200,000 year old soil had recently been found at the 'gate to the suberranean world', a place where many of the local Yakutian people fear to approach, fully believing it to be the gateway to another dimension. Scientists say "In some sense, Batagaika does provide a view to what has happened in the past and what is likely to happen in the future."

While the 'door to the underworld' continues to grow in Siberia since it was first discovered in the 1960's, another story from Science Alert that Quayle linked to on his website back in February was called "Nearby Earthquakes Are Opening Up Africa's 'Gateway To Hell' Volcano", another story suggesting we're living in truly Biblical Times.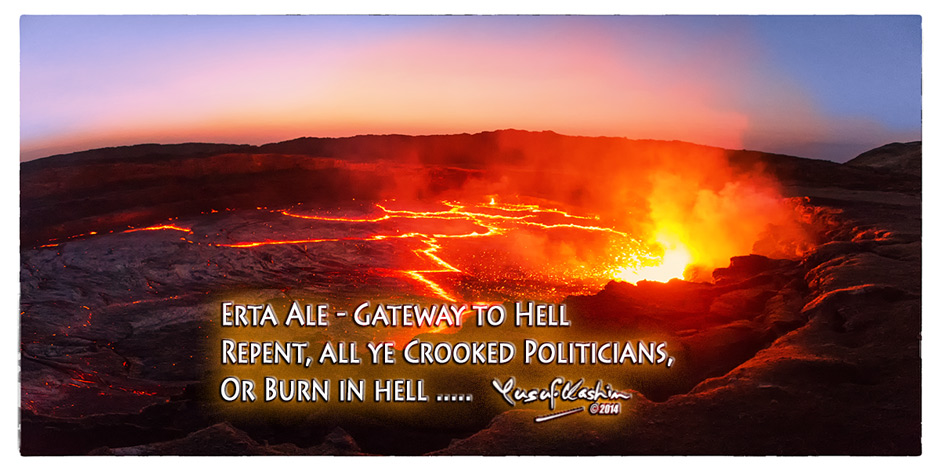 Officially known as the Erta Ale volcano in Ethiopia, scientists believe nearby tectonic activity recently opened up new cracks near the volcano, spouting new river's of lava. As their story tells us, Erta Ale is one of the most spectacular sights in the natural world, featuring several lava lakes which have been bubbling and burning for decades....at a whopping 2,012 degrees Fahreneheit.

According to eyewitness reports, the lava lake levels have risen significantly over the past few weeks, producing "massive overflows" and "intense spattering" on top of the new fissures captured by NASA's satellites on the southeastern flank of the volcano, 7 kilometres (4.3 miles) from the summit.

These are the first flows beyond the volcano's crater that have been seen in a decade, according to Gezahegn Yirgu from Addis Ababa University in Ethiopia.

The 'Gateway to Hell' and 'Smoking Mountain' nicknames locals use for Erta Vale are well deserved. Set 613 metres (2,011 feet) above sea level, it's one of just five known volcanoes with molten lava lakes, and is the only one on record with two.

The site is part of the Danakil Depression in Ethiopia, where three tectonic plates are sliding away from each other as Africa and Asia move apart. In terms of average temperatures across the year, it's one of the hottest places on the planet.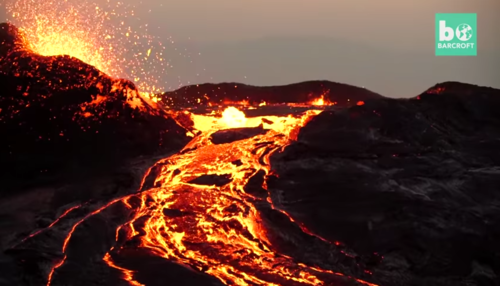 "Erta Ale is probably the most overwhelming, unreal and mesmerising sight one could see in a lifetime," photographer Joel Santos told MailOnline in their recent story, appropriately called "The Gateway To Hell Is Cracking".

In the first video below from Barcroft TV, they take us up close and personal to Erta Ale, their photographers putting on protective gear to venture as close to the 2,000+ degree lava flows as they can get us in a great video just recently published on YouTube. Their description of the video.:

In a scene resembling the depths of hell, a surge of magma escapes volcano Erta Ale in Ethiopia resulting in a dramatic flood of lava. Such an incredibly rare moment as this has never been witnessed before, and was a result of the tectonic plates in the area rifting apart, and great timing from the volcano tour group.

The Volcano Discovery tour group were led across the volcano by an experienced geologist in January 2017, and all wore gas masks and heat-resistant boots.





A 'shield volcano' like Erta Ale differs from most volcanoes in that it has much more gently sloping sides so when they erupt, they shoot their rivers of lava more outwards than upwards as seen in the images both at the top of this story and below videos.

The recent story from Collective Evolution also reports that volcanoes are erupting all across the planet with the author of the story asking if something is now happening to our Earth's core. With massive volcanic activity also happening at a time when mega earthquake swarms are striking all across the ring of fire, our videographer in the final video below breaks down the previously mentioned Michael Snyder story and tries to come up with an answer to the question: "Is Something Happening Inside The Earth?"

And while we humans will go on our merry way, the ancient oarfish seems to know well ahead of time what we could only guess - that a terrible shaking is coming. Once again, an oarfish recently beached itself ahead of a Philippines earthquake, proving to us how little we know. According to the story by Message From Eagle that Steve Quayle recently linked to, the oarfish is called "Messenger of the Sea God's Palace" and with good reason - according to an ancient Japanese legend the oarfish are omens of coming earthquakes.

It's easy to see we are witnessing many ominous signs of coming change in 2017.
SOURCE:- http://allnewspipeline.com/Earth_Changes_Door_To_The_Underworld.php
EgyptAir Flight MS804 en route
from Paris to Cairo 'disappears'
from radar – search underway
21st Century Wire says…
What are the odds? Yet another airliner – 'disappears' in thin air?
An Airbus A320 plane carrying 66 passengers, left Paris Charles de Gaulle International Airport at 11.09pm (21.09 GMT) local time on Wednesday night.

According EgyptAir, at 2.45am Egypt local time (00.45 GMT) Greek air traffic controllers reported the plane was heading southeast before making "a sudden turn" to the northwest – and then quickly disappearing from radar while traveling at 37,000 feet, as contact was lost at 16km/10 miles inside of Egyptian airspace.
According to airline authorities, no distress call was given, as the plane "faded" from radar.
Passenger breakdown by nationality:
30 Egyptian
15 French
2 Iraqi
1 British
1 Belgian
1 Sudanese
1 Chadian
1 Portuguese
1 Algerian
Vanished -

Into Thin Air!
Perplexing accounts of mysterious disappearances
SOURCE:- (http://paranormal.about.com/cs/humanenigmas/a/aa060903_2.htm)
25/04/16

PEOPLE DISAPPEAR EVERY day. It's been estimated that as many as 10 million people
are reported missing each year in the U.S. alone; about 95 percent of them return or are
otherwise accounted for. Of the remaining 5 percent, some are runaways, others are
kidnappings, abductions or the victims of some other crime.
There is a small percentage of disappearances, however, for which there is no easy
explanation.
We related several such incidents in a previous article, Vanished! Unexplained Disappearances.
The fate of these people -- sometimes groups of people -- is left for us to wonder about. Did
they unwittingly step into a time portal?... Were they swallowed up by a rift in our three-
dimensional world?...
THE VANISHING PRISONER
This first account is an excellent case in point because it defies any rational explanation for
one simple reason: it occurred in full view of witnesses. The year was 1815 and the location a
Prussian prison at Weichselmunde. The prisoner's name was Diderici, a valet who was serving
a sentence for assuming his employer's identity after he died from a stroke. It was an
ordinary afternoon and Diderici was just one in a line of prisoners, all chained together,
walking in the prison yard for the day's exercise.
As Diderici walked with his prison inmates to the clanking of their shackles, he slowly began
to fade -- literally. His body became more and more transparent until Diderici disappeared
altogether, and his manacles and leg irons fell empty to the ground. He disappeared into thin
air and was never seen again.
(From Among the Missing: An Anecdotal History of Missing Persons from 1800 to the
Present, by Jay Robert Nash)
STUMBLE INTO NOTHINGNESS
It's difficult to dismiss such incredible stories when they take place in front of eyewitnesses.
Here's another. This case began as a harmless bet among friends, but ended in tragic
mystery. In 1873, James Worson of Leamington Spa, England, was a simple shoemaker who
also fancied himself somewhat of an athlete. One fine day, James made a bet with a few of
his friends that he could run non-stop from Leamington Spa to Coventry. Knowing that this
was a good 16 miles, his friends readily took the bet.
As James began to jog at a moderate pace toward Coventry, his friends climbed into a
horse-drawn cart to follow him and protect their bet. James did well for the first few miles.
Then his friends saw him trip on something and fall forward... but never hit the ground.
Instead, James completely vanished. Astonished and doubting their own eyes, his friends
looked for him without success, then raced back to Leamington Spa to inform the police. An
investigation turned up nothing. James Worson had run into oblivion.
(From Into Thin Air, by Paul Begg)
HALFWAY TO THE WELL
Most disappearances do not have witnesses, yet there is sometimes circumstantial evidence
that is no less puzzling. This is the case for the vanishing of Charles Ashmore. It was a cold
November winter night in 1878 when 16-year-old Charles went out into the dark with a
bucket to fetch water from the well for his family on their Quincy, Illinois property. He did
not return.
After many minutes, his father and sister became concerned. They feared that Charles
perhaps had slipped in the snow that blanketed the ground and was injured, or worse, had
fallen into the well. They set out to look for him, but he was just gone. There was no sign of
a struggle or fall... only the clear tracks of Charles' footprints in the fresh snow that led
halfway to the well, then abruptly stopped. Charles Ashmore had suddenly disappeared into
the void.
GONE IN HIS SLEEP
Bruce Campbell was right next to his wife when he disappeared, although she didn't see it
happen. She was asleep. And perhaps so was he. It was April 14, 1959, and Campbell was
traveling with his wife from their hometown in Massachusetts to visit their son some
distance across the country. It was a long but pleasant drive across the U.S. with plenty of
stops along the way. One overnight stop was in Jacksonville, Illinois...
and it turned out to be the last stop Mr. Campbell was to ever make.
He and his wife checked into a motel and went to bed. In the morning, Mrs. Campbell
awoke to find the space next to her in bed empty. Mr. Campbell had vanished, apparently in
his pajamas. All of his belongings -- his money, car and clothing -- remained behind.
Bruce Campbell was never seen again and no explanation for his disappearance ever found.
(From Among the Missing: An Anecdotal History of Missing Persons from 1800 to the
Present, by Jay Robert Nash)
THEY DROVE AWAY... TO WHERE?
Here's another case of a couple in Illinois, but this time they both vanished -- along with
their car. It was May, 1970 when Edward and Stephania Andrews were in the city of Chicago
to attend a trade convention party at the Chicago Sheraton Hotel. Edward was a
bookkeeper and Stephania a credit investigator. They were both 63 years old, considered
average, upstanding citizens who lived in a fine home in the Chicago suburb of Arlington
Heights. During the party, other attendees noted that Edward complained of mild illness,
which he attributed merely to being hungry (the party only served drinks and small hor
d'oeuvres).
They soon left the party and went to the parking garage to retrieve their car. The parking
attendant later told authorities that Stephania appeared to be
crying
and that Edward did
not look well. As they drove away with Edward at the wheel, he scraped the car's fender on
the exit door, but kept on going.
The attendant was the last person to ever see the Andrews. They vanished into the night.
Police speculated that Edward, not feeling well, had driven off a bridge into the Chicago
River. But an investigation uncovered no sign of such an accident; the river was even
dragged for the car without success. The Andrews and their car were just gone.
THE LONG, LONG DRIVE
A similar disappearance was reported by The New York Times in April, 1980. Charles Romer
and his wife Catherine were one of those retired couples who spent half of the year in the
north and half in the south, living in their summer home in Scarsdale, New York, then
driving to Florida to enjoy the winter in their Miami apartment. It was on one such trip
back to New York that the Romers met their mysterious fate. They set off on the long trip
on the morning of April 8 in their black Lincoln Continental. Late that afternoon, they
made their first overnight stop at a motel in Brunswick City, Georgia. It turned out to be
their last.
They checked in and dropped off their luggage in their room. Then they went out, possibly
to get some dinner. A highway patrolman might have seen their car on the road that
evening. If so, it was the last anyone ever saw of the Romers or their Continental. They
never arrived at any restaurant and never made it back to the motel. It wasn't until three
days later that an investigation showed that their motel beds were never slept in. A
thorough search of the area found absolutely no trace of the Romers or their car -- no clues
whatsoever. They simply vanished without a trace.
Strange White Vans Following And Attempting To Kidnap People In Multiple Cities And States
21/6/15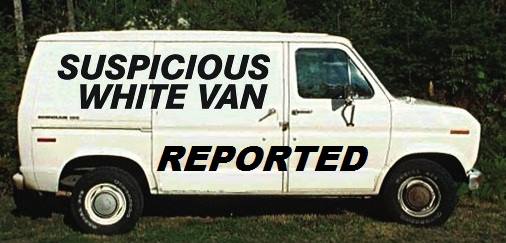 By Susan Duclos - All News PipeLine

More reports are being investigated by authorities of strange white vans following people, and in searching for information on the latest reports we found that this has been occurring for years in multiple states and cities, and yet authorities call these cases unrelated.

The most recent reports have come from multiple counties in Tennessee, including Loudon, Monroe and Cumberland according Local 8 News from June 19, 2015:

That's when she saw the man get into a white Dodge Sprinter van and drive away.

We called all three departments that received complaints. None of them have identified the suspects, but based on descriptions of the vans and the drivers, they don't think the cases are related.

In each case, there weren't any laws broken, but Vonore City Police say they are trying to find the man to get more information.

Kirkland says the man who she thinks was following her is between 40 and 50 years old and about 6'2".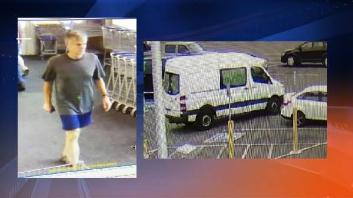 On June 10, 2015, the same station reported the county of Cumberland incidents:

Law enforcement across Cumberland County is on the lookout for a suspicious white van that has been seen several times following people.

Cumberland County Community Resource Officer, Gary Howard, said the van has been spotted several times throughout the county following people and driving suspiciously.

On one occasion, a boy was walking home and the van was reported to have driven past the boy several times. On another occasion, a white van pulled up to a local business, a man got out and started asking a woman several personal questions before finally driving away.

The authorities see no relation in these cases, but looking at the larger picture after doing some searching we see that strange white van incidents have been occurring in multiple states for years, another recent report coming on June 10, 2015, from Bexar County in Texas, where local law enforcement has sent out an alert warning people of a "man in a white van" following teenage girls on the street, the report describing two incidents in the same day:

The first report came from a teenager walking down the street in the 11000 block of Creek Crown.

"She said a guy in a van was following her so, she decided to snap a picture of the van," said James Keith with the Bexar County Sheriff's Office. "The driver of the van ended up taking off. He didn't make contact with her, he didn't talk to her, nothing like that, but she thought it was suspicious. She went home and told one of her parents."

Two hours later, Keith said a 12-year-old girl reported that she was walking in the 10000 of Raven Field when she first noticed a van behind her.
She said it eventually pulled up right next to her, but when the driver rolled down the window, she screamed and ran.

In January 2015, Plano,Texas, a man in a white van attempted to kidnap a 9-year-old boy, first offering him ride, then getting out of his van and attempting to grab him.

In March 2014, police were searching for a man in a white van in relation to a kidnapping attempt of a 5-year-old child, in Cedar Rapids, Iowa.

In March 2014, police in Reddington, Connecticut, were also searching for a man in a white van who went after a teenage girl and coincidentally, the report indicates "the same thing happened in three other towns," with police telling parents to be on the lookout.

In July 2014, Wyoming, Minnesota, KMSP-TV reported that "Two girls were apparently in the front yard of a house when two men in their 30s pulled up in the van. One of the men motioned for a girl to come closer to the vehicle, at which point an adult came out of the house and the van sped away." That van was reportedly white as well.

In August 2014, Jacksonville Florida news reported "suspicious white van spotted 3 times near school bus stops," where the driver was following teenagers and in one case reportedly stopped and took photographs.

August 2014, Chicago news reported of an 11-year old girl that escaped a kidnapping attempt claiming their was another girl "duct-taped" in the white van the man was driving.

In September 2014, Reynoldsburg, Ohio had reports about "a number of community members reported seeing white cargo vans canvassing the area."

In September 2014, Iowa news reported on four attempted kidnappings in separate incidents in multiple counties.

In October 2014, Port Clinton Ohio, police put out a "white van alert" after a man followed "a pair of juveniles throughout Port Clinton."

In October 2014, Jefferson County, Georgia, two attempted kidnappings were reported by a man in a white van.

In March 2013, in Mount Pleasant South Carolina, police were on alert for a man in a white van who was "following and taking pictures of children," with police telling WCBD-TV they had also "received reports of residents seeing the van in many neighborhoods."

In December 2013, the LOCAL 15 reported from Mobile County, Alabama, "A new report of a white van is causing people to be on their guard.This past weekend some homeowners reported four people in a white van were scouring the neighborhood claiming to be with a carpet cleaning business. Soon after, car alarms went off. Now another homeowner just across the Mississippi state line has had a similar encounter, this time she was able to get pictures of the white van and its occupants. Our dog started barking sure enough at a white van with four individuals, said Marcus Hennis in a phone interview with Local 15.Marcus Hennis wife saw a white van with four occupants hanging out in her yard. They were lingering around back so she went to the door they said they were with a carpet cleaning business, said Marcus Hennis. The Hennis live right across the Mississippi-Alabama state line off Moffett Road, 15 minutes from where people in Semmes reported the suspicious van. Marcus says his wife remembered the story from our newscast so she immediately became suspicious. After she pressed for more information they eventually just left, said Hennis.The Mobile County Sheriffs Office is getting copies of pictures Hennis took of the van. Theres no evidence right now the van in the pictures is the one other neighbors reported seeing." (Shown in the first video below)

In March 2012, MLive reported from Jackson, Michigan, that "After multiple incidents of a man in a white van reportedly taking photos of or lingering around children, Jackson County Sheriff Steve Rand is encouraging people to call 911 and report any similar suspicious activity."

As an interesting side note, we also found that incidents of white vans targeting women and children have also been reported in other countries, such as Canada and the UK. In Sri Lanka, "white van stories" have been connected to mysterious disappearances since before 2013. (Shown in the second video below)

Are these and many more found just by utilizing a search engine truly unrelated? Do perverts and kidnappers all have some sort of manual which leads them all to buying and using "white vans"? Or is something far more sinister occurring?

For example, the NYT has connected "white vans" to cases of sex trafficking. Tampa Bay Times has connected them to human trafficking. WGBH in Boston has also connected them to human trafficking.

According to Equality Now, At least 20.9 million adults and children are bought and sold worldwide into commercial sexual servitude, forced labor and bonded labor; About 2 million children are exploited every year in the global commercial sex trade; Almost 6 in 10 identified trafficking survivors were trafficked for sexual exploitation and; Women and girls make up 98% of victims of trafficking for sexual exploitation.

One has to wonder why these events, specifically reporting "white vans" are always reported as separate events without law enforcement or the MSM even mentioning the possibility of an organizational connection to something far more sinister than just random incidents totally unrelated?











3rd MALAYSIAN AIRPLANE DISASTER OF 2014 PREDICTED 13 DAYS IN ADVANCE
Mysterious Chinese blogger sparks online frenzy after 'predicting' that 'black hand' was going to bring down AirAsia jet THIRTEEN days before one vanished (http://www.peopleofthekeys.com/)
Blogger warned on Dec 15 that 'AirAsia would be targeted by black hand'
Refers to a shadowy group he claims also sabotaged MH17 and MH370
Peppered internet with 39 posts which have been viewed by 650k users
Some speculate that he could be Chinese intelligence official or a hacker
Sceptics say posts were likely edited after AirAsia 8051 went missing
By SIMON TOMLINSON FOR MAILONLINE
PUBLISHED: 12:37 EST, 29 December 2014 | UPDATED: 12:06 EST, 30 December 2014
A mysterious Chinese blogger has provoked a storm of speculation online over claims he predicted the disappearance of an AirAsia flight thirteen days before one vanished.
In a series of posts which have gone viral, the man appears to warn that the airline would be targeted by a shadowy group he calls the 'Black Hand' which he claims brought down Malaysian Airlines flights MH17 and MH370 earlier this year.
An AirAsia flight went missing yesterday with 162 people on board after losing contact en route from Surabaya in Indonesia to Singapore in the third crisis for a Malaysian carrier this year.
Since its disappearance, social media users have reacted with astonishment at the apparent prediction, while others claim the posts were probably just edited afterwards to make it look authentic.
A Chinese blogger has provoked a storm of speculation online over claims he predicted the disappearance of an AirAsia flight two weeks before one of its Airbus A320s (like the one above) vanished yesterday
The apparent predictions have gone viral on social media and discussion forums such as Reddit (above), with some users expressing astonishment at the forewarning and others claiming it could be a hoax
In one comment on December 15, which has been loosely translated by a Reddit member, the blogger apparently warns: 'Black hand has hijacked and shot down MH370 and MH17.
'This has pretty much killed the sixth largest airline: Malaysian airline.
'Now the black hand are targeting AirAsia to ruin this airline cause (sic) it too belong to Malaysia.
'Given how powerful the black hand are I suggest that all Chinese thinking about travelling to avoid AirAisa, so that you don't disappear like those on MH370.'
Black Hand is a term believed to be a metaphor for a covert organisation or a number of underground groups.
[ Note by Author S.N.S of "Out of the Bottomless Pit". If you read about John Todd's expose of the ILLUMINATI, then you will notice that back in the early eighties, that he mentioned back then this "BLACK HAND", as being the INTERNATIONAL MAFIA, who are hired sometimes to do the dirty work for the ILLUMINATI. Someone in high places obviously does not like MALAYSIA, and what better way to ruin their ECONOMY than by ruining the reputation of its AIRLINES, as MALAYSIA depends on its AIRINES and is totally surrounded by the sea, being also many islands!]
One Reddit user suggests the translation should read 'International big black hand' which they say is more of a reference to a 'despicable international bully'.
No Chinese nationals were on Flight 8501 when it disappeared.
The blogger reportedly peppered social media with a total of 39 posts on the subject which have been viewed by more than 650,000 people.
Mystery: The flight went missing from radar at 6.18am local time - six minutes after last communication with air traffic control - while travelling from Indonesia to Singapore with 162 people on board. Search planes spotted objects and two oily patches in the search area on Monday afternoon
When asked how he could make such a prediction - with one user calling him a 'conspiracy nut' - he reportedly replied: 'All you civilians get away (from the airline).
'You can still hide, all those that see the post can still save themselves.'
Other reports suggested the blogger repeated his warning on December 16 and 17, adding: 'This is a major event in human life, we have to pay attention.'
Despite facing continued accusations of being 'crazy', he relays a further message to 'be suspicious of the US,' writes one Reddit user who says he got a friend to translate the posts.
The blogger later claims to have persuaded some people to follow his warning.
But after December 17, there was no more activity on his account.
Since the disappearance of Flight 8051, many have reacted with astonishment at the apparent prediction, with speculation rife that he was a Chinese intelligence official or a hacker who had obtained information from the group allegedly responsible.
Reddit user lolrus_bukkit wrote: There is an ongoing conspiracy in Chinese forums that this guy is in Chinese intelligence or a hacker that got sensitive information trying to save as many people he could without making a big scene (guess he failed the second part).'
Air Asia plane carrying 162 lost; 3rd Malaysia airline shock during 2014?!*
Air Asia plane carrying 162 people disappeared
(28.12.14) JAKARTA SOURCE:-(https://uk.news.yahoo.com/tv-plane-162-aboard-missing-indonesia-034017659.html#CpW8KnG)
— An astonishingly tragic year for air travel in Southeast Asia turned worse Sunday when an Air Asia plane carrying 162 people disappeared over stormy Indonesian waters, with no word on its fate despite several hours of searching by air and sea.
AirAsia Flight 8501 vanished in airspace thick with dense storm clouds on its way from Surabaya, Indonesia, to Singapore. Searchers had to fight against heavy rain.
The Malaysia-based carrier's loss comes on top of the still-unexplained disappearance of Malaysia Airlines Flight 370 in March and the downing of Malaysia Airlines Flight 17 in July over Ukraine.
At the Surabaya airport, shocked family members pored over the plane's manifest, crying and embracing. Nias Adityas, a housewife from Surabaya, was overcome with grief when she found the name of her husband, Nanang Priowidodo, on the list.
The 43-year-old tour agent had been taking a family of four on a trip to Singapore, Malaysia and Indonesia's Lombok island, and had been happy to get the work.
"He just told me, 'Praise God, this new year brings a lot of good fortune,'" Adityas recalled, holding her grandson tight while weeping uncontrollably. "He apologized because he could not join us for the new year celebration."
Nearly all the passengers and crew are Indonesians, who are frequent visitors to Singapore, particularly on holidays.
The Airbus A320 took off Sunday morning from Indonesia's second-largest city and was about halfway to Singapore when it vanished from radar. The jet had been airborne for about 42 minutes.
Djoko Murjatmodjo, Indonesia's acting director general of transportation, said there was no distress signal from the twin-engine, single-aisle plane.
The last communication between the cockpit and air traffic control was at 6:13 a.m. (23:13 GMT Saturday), when one of the pilots "asked to avoid clouds by turning left and going higher to 34,000 feet (10,360 meters)," Murjatmodjo said. It was last seen on radar at 6:16 a.m. and was gone a minute later, he told reporters.
Indonesia, Singapore and Malaysia launched a search-and-rescue operation near Belitung island in the Java Sea, the area where the jetliner lost contact with the ground.
The air search was suspended Sunday evening and was to resume Monday morning, said Achmad Toha of Indonesia's search-and-rescue agency. Some ships continued searching overnight, he said.
AirAsia group CEO Tony Fernandes flew to Surabaya and told a news conference that the focus should be on the search and the families rather than the cause of the incident.
"We have no idea at the moment what went wrong," said Fernandes, a Malaysian businessman who founded the low-cost carrier in 2001. "Let's not speculate at the moment."
Malaysia-based AirAsia has a good safety record and had never lost a plane before.
"This is my worst nightmare," Fernandes tweeted.
But Malaysia itself has already endured a catastrophic year, with 239 people still missing from Flight 370 and all 298 people aboard Flight 17 killed when it was shot down over rebel-held territory in Ukraine.
AirAsia said Flight 8501 was on its submitted flight plan but had requested a change due to weather.
Sunardi, a forecaster at Indonesia's Meteorology and Geophysics Agency, said dense storm clouds were detected up to 13,400 meters (44,000 feet) in the area at the time.
"There could have been turbulence, lightning and vertical as well as horizontal strong winds within such clouds," said Sunardi, who like many Indonesians uses only one name.
The plane had an Indonesian captain and a French co-pilot, five cabin crew members and 155 passengers, including 16 children and one infant, the airline said in a statement. Among the passengers were three South Koreans, a Malaysian, a British national and his 2-year-old Singaporean daughter. The rest were Indonesians.
AirAsia said the captain has a total of 6,100 flying hours, but Fernandes later said the number is more than 20,000. The first officer has 2,275 flying hours.
At Surabaya airport, dozens of relatives sat in a room waiting for news, many of them talking on mobile phones and crying. Some looked dazed.
Dimas, who goes by one name, said his wife, 30-year-old Ratri Sri Andriani, had been on the flight to lead a group of 25 Indonesian tourists on a trip to Singapore and Malaysia. He was holding out hope that the plane had made an emergency landing.
"We can just pray and hope that all those aboard are safe," said Dimas, who was surrounded by Ratri's parents and friends at the airport crisis center. "We are worried, of course, but we have to surrender to her fate."
Indonesia's search-and-rescue head, Bambang Soelistyo, said his agency would search Monday with 12 ships and three helicopters, along with five military aircraft and a number of warships.
Malaysia and Singapore each planned to deploy one C-130 plane and three ships. Australia will also help, he added.
The missing aircraft was delivered to AirAsia in October 2008, and the plane had accumulated about 23,000 flight hours during some 13,600 flights, Airbus said in a statement.
The aircraft had last undergone scheduled maintenance on Nov. 16, according to AirAsia.
The airline, which has dominated cheap travel in Southeast Asia for years, flies short routes of just a few hours, connecting the region's large cities. Recently, it has tried to expand into long-distance flying through its sister airline AirAsia X.
Fernandes, who is the face of AirAsia and an active Twitter user, stirred controversy earlier this year after incorrectly tweeting that Malaysia Airlines Flight 370 had landed safely.
William Waldock, an expert on air crash search and rescue with Embry-Riddle Aeronautical University in Prescott, Arizona, cautioned against drawing comparisons to the disappearance of Flight 370.
The circumstances bode well for finding Flight 8501 since the intended flight time was less than two hours, and there is a known position where the plane disappeared, he said.
The Airbus A320 is a workhorse of modern aviation. Similar to the Boeing 737, it is used to connect cities anywhere from one to five hours apart. There are currently 3,606 A320s in operation worldwide, according to Airbus.
The A320 family of jets, which includes the A319 and A321, has a good safety record, with just 0.14 fatal accidents per million takeoffs, according to a safety study published by Boeing in August.
Flight 8501 disappeared while at its cruising altitude, which is usually the safest part of a trip. Just 10 percent of fatal crashes from 2004 to 2013 occurred while a plane was in that stage of flight, according to the August Boeing safety report.
In 2007, an Indonesia-owned Adam Air plane carrying 102 people vanished during a domestic flight. Its flight-data and cockpit-voice recorders were retrieved months later, but much of the fuselage remains on the ocean floor.
In 1995, an Indonesian plane operated by Merpati Nusantara Airlines disappeared over open water while flying between islands in the archipelago nation. The 14 crew and passengers were never found.
When passing through bad weather, Airbus jets are able to automatically adjust to wind shears or other weather disruptions. However, weather has played a role in past air disasters that occurred at cruise altitude, including the 2009 Air France Flight 447 crash over the Atlantic Ocean.
___
Associated Press writers Joan Lowy in Austin, Texas, Scott Mayerowitz in New York and Lori Hinnant in Paris contributed to this report.
VERY ODD ATMOSPHERIC CONDITIONS WHEN 3RD MALAYSIAN FLIGHT WENT DOWN
Stricken AirAsia plane soared 'as fast as a fighter jet' and then dropped almost vertically into Java Sea as if being thrust down by a giant hand, crash experts revealed today!
SOURCE:- (MAIL ON-LINE)

Plane behaved in ways 'bordering on edge of logic' before disappearing

Craft soared up at 'unprecedented' rate before falling almost vertically

Weather was so extreme pilots could not have saved 162 people on board

First body to be pulled from ocean identified and handed back to family

More bodies found by search teams today bringing total recovered to nine

But workers warn it could be a week before plane's black box is found
1 January 2015
The AirAsia jet which plunged into the Java Sea rose up as fast as a fighter jet and then dropped almost vertically into the water as if being thrust down by a giant hand, crash experts agreed today.
Their conclusion is that the Airbus 320-200 was in the grip of weather so freakishly extreme that there was nothing the pilots could have done to save the jet and all 162 people on board.
The plane behaved in ways 'bordering on the edge of logic,' Indonesian aviation analyst Gerry Soejatman said after examining figures leaked from the official air crash investigation team.
The news came as the first victim of the crash was identified and handed back to her family, and rescuers pulled two more bodies from the ocean, bringing the total recovered to nine.
Experts examining flight data leaked from the AirAsia crash investigation said the plane behaved in ways 'bordering on the edge of logic' after rising thousands of feet into the air before falling almost vertically
The body of Hayati Lutfiah Hamid was identified by medical workers from surgical scars, a necklace bearing her initials, her fingerprints, and a red name badge pinned to her clothes.
Officials have yet to speculate on what caused AirAsia flight A320-200 to plunge into the sea 40 minutes into a flight from Surabaya to Singapore.
Efforts by dive teams to recover the plane's black box, which will contain vital data on how the tragedy unfolded, have been hampered by poor weather as search teams warn it could be a week before the device is located and brought to the surface.
But today Mr Soejatman said the jet climbed at a speed that would have been impossible for the pilot to have achieved - and then plunged straight down 'like a piece of metal being thrown down.'
'It's really hard to comprehend…the way it goes down is bordering on the edge of logic.'
Australian aviation expert, Peter Marosszeky, from the University of NSW, told the Sydney Morning Herald that, in contrast, he was baffled by the extremely low speed of the descent - as low as 61 knots - which would suggest the plane was heading almost straight down, explaining why it has been found in water just 10km from its last point of radar contact.
Both experts are in agreement that the jet went down almost vertically - and also concluded that a freak weather pattern that placed the aircraft under extraordinary forces was to blame for its plight.
Earlier in the week, AirAsia chief executive Tony Fernandes - who vowed today to fly home with the body of 22-year-old stewardess Khairunnisada Haidar once she has been formally identified - suggested the jet had encountered 'very unique weather.'
Mr Soejatman meanwhile remains convinced that the reason for the crash, while officially a mystery, is possibly because the aircraft was caught in a severe updraft, followed by an equally severe ground draft.
He said that leaked figures showed the plane climbed at a virtually unprecedented rate of 6000ft to 9000ft per minute and 'you can't do that at altitude in an Airbus 320 with pilot action.'
The most that could normally be expected, he said, would be 1000ft to 1500ft on a sustained basis, gaining 3000ft in a burst.
But then the aircraft fell at an even more incredible rate of 11,000ft a minute, with extraordinary bursts of up to 24,000ft a minute - figures higher than the Air France A330 Airbus that crashed into the Atlantic in 2009, killing 228 passengers after attaining baffling ascent and descent rates.
Mr Marosszeky agreed that a climb rate of at least 6000ft a minute would indicate a 'severe weather event,' because that rate of climb was a 'domain for jet fighters.'
Howwever, Dudi Sudibyo, a senior editor of aviation magazine Angkasa, disagreed with that analysis, claiming that the pilot managed to land on the sea before the craft was overwhelmed.
Mr Sudibyo said that emergency locator transmitters on board the aircraft would be set to go off after automatically after a heavy impact. Because these is no evidence these devices triggered, he claims, the pane must have landed safely.
However due to the stormy conditions on the day, the craft was swamped before disappearing below the waves, The Mirror reported.
In a fascinating, yet worrying, comment earlier in the week, Mr Fernandes suggested that climate change was making weather worse and flying riskier, particularly in the tropics.
Meanwhile today Mr Fernandes promised that he would fly with the family of flight QZ8501 and the body of stewardess Ms Khairunnisa to her home town in Palembang, Indonesia, once her body has been positively identified.
The body of one of the two stewardesses, still in her red AirAsia uniform, has been recovered.
In a Tweet today, Mr Fernandes said that 'if our beautiful and wonderful crew (member) is identified, we will go from Surabaya to Palembang with her parents. Heartbreaking soul (destroyed).'Ms Khairunnisa's father, Mr Haidar Fauzie, told The Star newspaper of Malaysia that he hoped the body found in a flight attendant's uniform was that of his daughter so that he could lay her to rest.